Grow your LuLaRoe Business with a Free Consultant Website, Blog & Loyalty Reward Programs.
Reward Loyal Customers.
Find and add new customers.
Grow your LuLaRoe Team.
Increase Sales & Social Sharing.
Optimized for YOUR business!
Helping you build loyal customer relationships.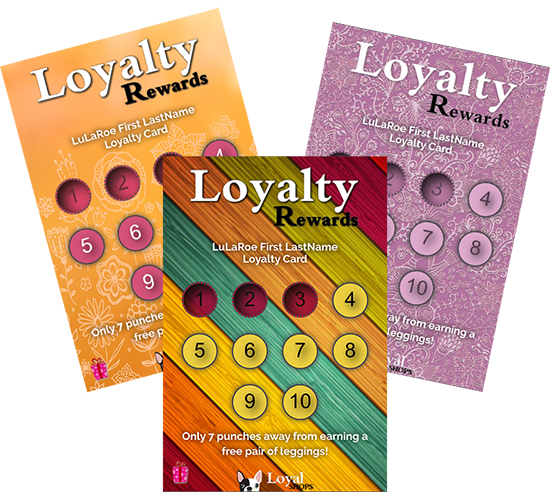 Loyalty Cards for your customers digitally delivered for tracking their purchases & driving repeat purchases.
Ready for Pop-Ups and Online Sales.
Simple and efficient - no applications for you or your customers to install.
Designed for LuLaRoe Consultants, so setup is easy.
Costs about the same as two cups of coffee a month!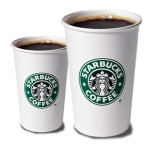 Pop-Up Boutiques
WIth your customers digital Loyalty Card on their phone, just enter your secret PIN to record and redeem their purchases. Learn More
Online Shopping
With your Consultant Dashboard easily see all your customers card punches. Quickly add purchases and redeem loyalty gifts. Your dashboard changes will show automatically on your customers Loyalty Cards. Learn More
Personalized for YOUR business
Free Webinar for YOUR team
Your Personal Website and Blog!
The Loyal Shops "Your Business Website" delivers LuLaRoe Consultants a super easy customizable website for FREE.  Nothing to purchase and it even comes with your own personal web address.  Build your brand, Inform your customers, show off your latest styles, live contact buttons and links to your checkout and returns forms if you have them.  With any of our Paid subscriptions, add a video to you website as well as a second text content area. There is no obligation, so try it out and get your own LuLaRoe Consultant Website today. View a Sample Site
Ready for a blogging platform super easy to setup and use? Want to easily add articles, pictures and videos? Have it work perfectly on phones, tablets and computers? Want a personalized address for your Blog? We have your solution! Blogging now included in any of our Loyalty Rewards subscriptions.
Also with a paid subscription, get our NEW! Your Business Website Join Us Page. Deliver the LuLaRoe story, capture leads, send candidates a LuLaRoe Opportunity Email you can customize. View a Join Us Sample Site
You can choose just a Blog, Just a Join Us Page or a General Website page or all three as they work together!
Pricing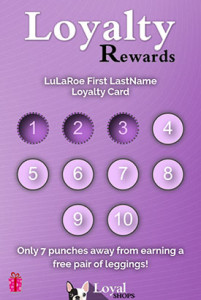 Trial Plan
FREE LuLaRoe Consultant Website!
Full functionality to explore the benefits of the Loyalty Card Subscription. Trial Plan limits your ability to send out a card just to your own email.